Cool Choices staff are long-time presenters and participants at the Behavior, Energy and Climate Change (BECC) conference. This event brings together an eclectic group of researchers, practitioners and advocates focused on environmentally sustainable behaviors. We were excited to represent our approach to game-based behavior change at the conference this year.
The 2015 BECC conference provided some terrific insights. For example, a recurring theme at BECC is the power of local. This year several presenters shared research showing that people are more responsive to messages with a local slant—it turns out that a locally-recognizable skyline in a Facebook post will increase clicks.
At Cool Choices we're acutely aware that local is relevant and that it motivates—it's why we implement our game and engagement platform within specific communities (within a business, across a city, or as part of an energy efficiency program). The Cool Choices game builds upon on our players' sense of community, showing them that others in their community are adopting sustainable practices and that, cumulatively, those practices add up to significant impacts. So, just how do we "show" local actions and values in terms of sustainability within an online game environment?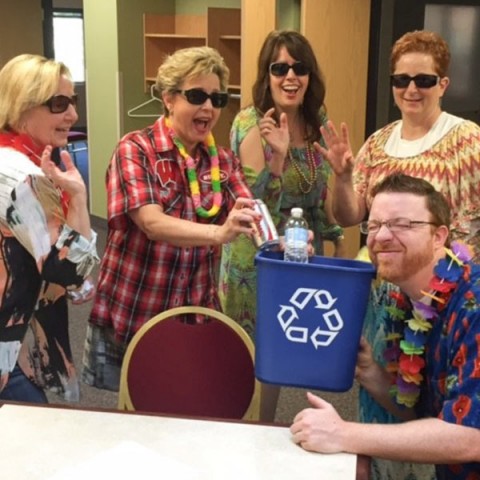 Social stream: An active social stream within the game platform lets players post photos of their sustainable actions, share sustainability tips or projects, and leave comments on and "cool" the posts of others in their community.
Teams and Leaderboard: Cool Choices is a team game. Players often tell us they play, and keep playing, because they don't want to let their team down. Players can check their team or individual standings within their community on the leaderboard.
Cumulative Data: Players can see the estimated cost savings generated from their community's efforts. This number builds with each day of game play. At the end of a game each client also receives an impact report.
Learn more about how Cool Choices makes sustainability visible.
Changing behaviors is hard, so for practitioners like us, the annual BECC conference is also an opportunity to trade strategies—to share what's working, to commiserate about the challenges, and to remember that we're not alone in this quest. Being part of a community of people who are promoting sustainable practices is powerful. Just as the Cool Choices sustainability game shows that people's small actions add up, BECC reminds us that our efforts are part of a growing international movement to address climate change. Being part of a community feels good.
In addition to attending conference sessions; Cool Choices led a post-conference workshop on using games as a behavior change strategy, "Want Change? Make it a Game!", shared our efforts to grow our game into a movement in a conference session, and a presented a poster on how games allow colleagues to coach one another on sustainability.
Curious about how Cool Choices can help your organization save money and get sustainable? Contact us and we'll get back to you with more information.