NORTHEAST WISCONSIN CASE STUDY
Our regional program in Northeast Wisconsin illustrates how major companies can come together to reinforce regional values.
Cool Choices has provided more of an awareness to for me and my family. Honestly, it's sad how wasteful we are, but it's also very hopeful that by making "cool choices," we can help improve the future of our environment one small choice at a time.
Cool Choices Partnered with Northeast Wisconsin Entities for a Regional Sustainability Engagement Program
In 2018, Cool Choices partnered with New North, Inc., an economic development organization representing 18 counties in Northeast Wisconsin, to implement a regional sustainability program. Fifteen organizations joined the program. Our partners included some of the biggest employers in the region, as well as participation from several faith groups and students in a UW-Oshkosh business class. This program engaged more than 1,350 people with more than 1,200 active participants. In total, participants reported actions that will reduce annual carbon emissions by more than 2,500 metric tons.
A Diversity of Businesses and Backgrounds Leads to New Ideas and a Fresh Look at Community Resources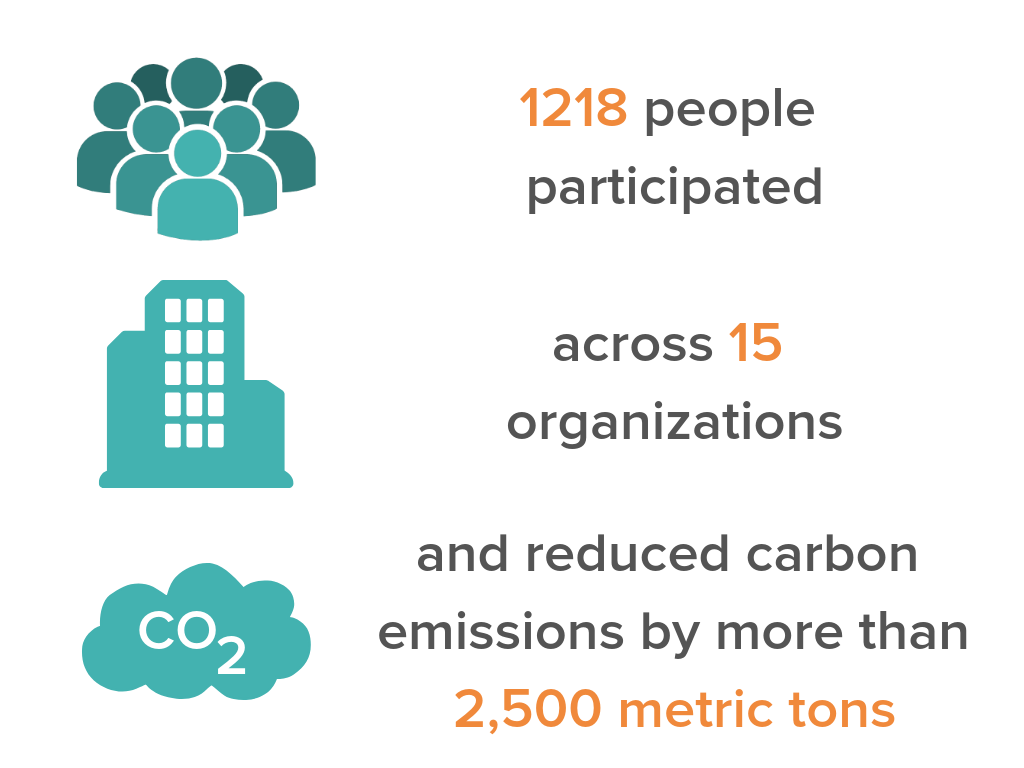 Home of the Green Bay Packers, northeastern Wisconsin is home to a variety of manufacturing, health care, engineering and financial services industries. Our participants were diverse–ranging from college students to retirees, from folks on the factory floor to executives in corner offices. In total, 1,218 residents of Northeast Wisconsin actively participated in Cool Choices. They generated 3,767 ideas about how their employers and their communities could become more sustainable. Some of these ideas applied broadly–such as eliminating bottled water in workplaces–while other ideas were very specific to the type of businesses, such as improvements in fleet operations or manufacturing processes. Each participating business partner received a full list of the ideas generated by their employees so that sustainability leads could use this information to expand corporate efforts.

The cross-organization aspect of the program also encouraged participants to reflect on sustainability opportunities in their greater communities. As participants tried out new behaviors, they also made suggestions about ways communities could facilitate more sustainable practices. Participants cited the need for expanded public transit services, safer bike trails and bike lanes, for example, while also identifying opportunities for sharing expensive tools among neighbors. The program was an excellent "nudge" toward new behaviors like riding the bus or carpooling to work. As part of the program, we're sharing the community-scale suggestions with local leaders to facilitate ongoing initiatives. Additionally, we encourage participants to continue to talk about the improvements they want to see that facilitate sustainable practices.

Employees Want Consistency

Many of the businesses that participated in the regional Cool Choices program have been leaders on corporate sustainability and have solid achievements in reducing resource use. When aware of what their employers have done, employees definitely appreciate the commitment to sustainability, whether exemplified by LED lighting and controls, electric vehicle charging stations, or even solar panel installations. At the same time, sustainability leads need to remember that other wasteful operations (such as disposable purchasing, ineffective recycling, or even a dripping faucet) can quickly taint an employee's view of how sustainable the organization truly is. Often, these operational issues are not the projects that have the most impact, but they are the most visual on a day-to-day level. Bad impressions count– and employees really do care! The data we provide back to our corporate partners helps them to identify and address these inconsistencies, which enables everyone to focus on the company's significant sustainability achievements.

Related K-12 Efforts
Cool Choices has a long-term partnership with Wisconsin's Green & Healthy Schools (GHS) program, the statewide initiative to help K-12 schools reduce resource use, increase environmental literacy, and improve health and wellness. In conjunction with our northeastern Wisconsin program, GHS is implementing a Cool Choices program at 12 schools in Marinette and Menominee (Michigan) counties.

Northeast Wisconsin Cool Choices Program
Participant feedback about the Cool Choices program has been overwhelmingly positive. Many participants are asking when they can play again!
This program illustrated the power of a regional program that engages the large and influential companies in a region. The businesses of the New North have a history of leading on sustainability. This program illustrated that people across the region value the economic and environmental benefits of sustainable practices. Accordingly, we look forward to additional regional programs in this area and in other areas!

In all of this, Cool Choices was mostly behind the scenes. We offered a sustainability engagement program that made it easy for businesses to engage their employees. We ensured all of our local partners had real-time access to data and the ideas and photos generated from the program. Each participating business was able to customize the launch and final prizes to fit their situation.
Our Participants
Thank you to all of the companies and organizations that participated in this exciting program!
Want to Learn More?
If you represent a city, county, or even state looking to engage broad groups of people in sustainable practices–perhaps as a way to catalyze support for a community-scale initiative or just to promote greater prosperity and community–give us a call. We're happy to talk about how our program can help you engage diverse groups of people in sustainable practices. Cool Choices makes it fun, social and easy to do the right things! Contact us.