Congratulations to Kohler Co. on their third Cool Choices employee engagement program! This program focused on Kohler Power Systems, Kohler's division that manufactures generators and related products.
Kohler is an industry leader in kitchen and bathroom products, engines and generators, decorative products and hospitality services. Founded in 1873 and headquartered in Kohler, Wisconsin, the innovative company is a household name with more than 50 manufacturing locations on six continents, and more than 35,000 associates dedicated to providing a sense of gracious living to every corner of the world.
KOHLER'S PARTNERSHIP HISTORY WITH COOL CHOICES
Cool Choices first partnered with Kohler in 2017 for an employee engagement sustainability program at their corporate headquarters in Kohler, Wisconsin. Employees took part in a six-week sustainability engagement program where participants earned points for their sustainable practices at work and at home. After the success of Kohler's first Cool Choices program, we partnered with the Wisconsin company for a second sustainability engagement program at two facilities in South Carolina and Arkansas. We then kicked off the recent program with Kohler Power Systems' extensive distributor network in September.
Throughout fall 2018, over 200 Kohler and distributor associates participated in a six-week Cool Choices program. Associates earned points for their sustainable practices at work and home.
Kohler Sustainability Program Results
Check out some of the resource and cost savings Kohler achieved during their fall 2018 Cool Choices program. All estimates are annualized; if players maintain sustainable habits, these savings accrue year after year!
772,294 lbs. of carbon emissions avoided. That's equivalent to taking 305 car trips from Los Angeles to New York City.
51,769 gallons of water saved—enough water to produce 25 pounds of chocolate.
12,507 gallons of gas conserved. That's equivalent to about 834 fill-ups of a 15-gallon tank.
284,660 kilowatt hours of electricity saved. The total electric savings are could power 26 homes for a year.
Nearly 400 sustainability ideas from Kohler associates to conserve resources at work and at home.
$80,940 saved. How could your company or organization use this amount of money to reinvest in your business? How could a family use these savings?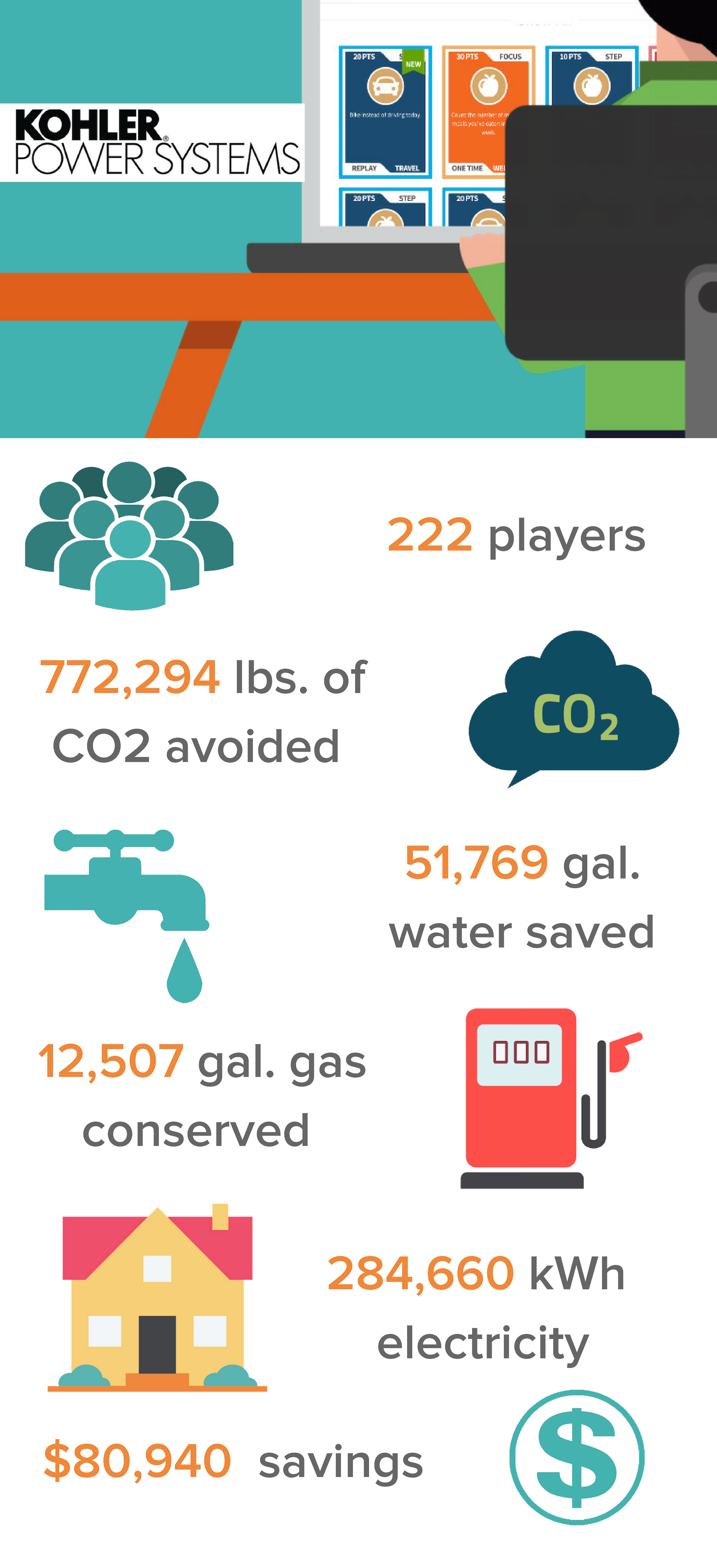 The Corporate Sustainability Bottom Line
These numbers speak for themselves. Saving resources is important, but so is the bottom line. Cool Choices employee engagement programs help organizations like Kohler work with employees to minimize waste and save resources, which in turn saves the business money. 
For more information on how you can start accelerating your organization's green initiatives, register for one of our upcoming webinars or contact us.
Comments are closed.