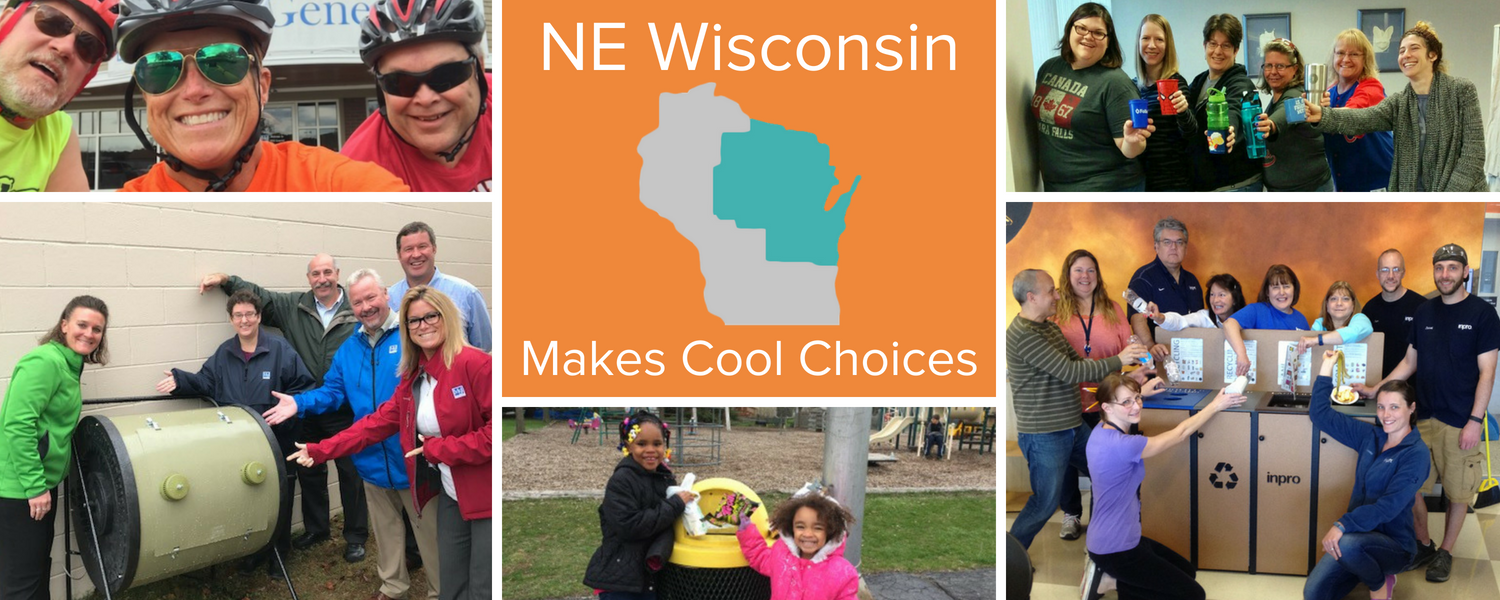 Some ideas are so good that they merit replication.
Last year Cool Choices did a community-scale sustainability program in Waukesha County, in partnership with the county's workforce development team and local chambers of commerce. Sustainability leaders in the Fox Valley heard about the program and reached out to ask if we could replicate the program in their region.
Cool Choices Community Sustainability Program
Now we're on the verge of a much larger program that is free to businesses across northeast Wisconsin. Whereas the Waukesha County program served businesses and residents in one county, our current effort—in partnership with New North, Inc., a regional economic development organization—will serve businesses and residents in 18 counties!
And, still, it's all about partnerships.
The northeast Wisconsin program is funded by the McKnight Foundation and is part of a state-level initiative to showcase sustainability successes and clean energy efforts around the state. Via this program, we'll celebrate the amazing stuff individuals, businesses and whole communities are doing across the region and, in the process, we'll re-affirm that reducing waste and conserving resources are shared values.
Our primary outreach partner is New North, Inc., the region's economic development catalyst. New North has long supported sustainability efforts in the region.
"Businesses in our region understand that reducing waste increases profitability, that adopting sustainable practices helps to attract and retain a talented workforce, and that providing customers with greener options builds brand loyalty," said Jerry Murphy, Executive Director of New North, Inc. "We are delighted to make our business leaders aware of the opportunity to participate in this free program from Cool Choices. The program provides an engaging way to celebrate much of what's special about our region."
And Cool Choices is thrilled to be offering a community-scale program in northeast Wisconsin. After all, we got our start in 2011 doing engagement programs in this region with Miron Construction. And then we did subsequent programs with Kohler Co. and Menasha Corp. Plus we did engagement programs with city and county staff in both Fond du Lac and Outagamie counties. We've even done work in local schools throughout the region.
Sustainability in Northeast Wisconsin
When it comes to sustainability, northeast Wisconsin is special. A variety of companies in the region adopted lean manufacturing and Six Sigma practices decades ago—which means innovative approaches to resource use and waste reduction are baked into the DNA of many local companies. More, the region is home to all sorts of amazing collaborations; it's a place where businesses come together to address workforce challenges, to increase local capacities, to showcase community successes and, of course, to accelerate sustainability efforts.
We are excited, then, to collaborate with New North, Inc. and its investors on this effort to promote sustainable practices across the region.
Cool Choices provides business leaders with an easy way to engage all employees in the conversation about sustainability. We're well aware of the magic that can occur when everyone starts thinking about how an organization can be more sustainable! Indeed, that's why we're so enthusiastic about the community-scale program in northeast Wisconsin.
If you work or live in northeastern Wisconsin we hope you'll learn more about this regional initiative and join the fun!
Comments are closed.