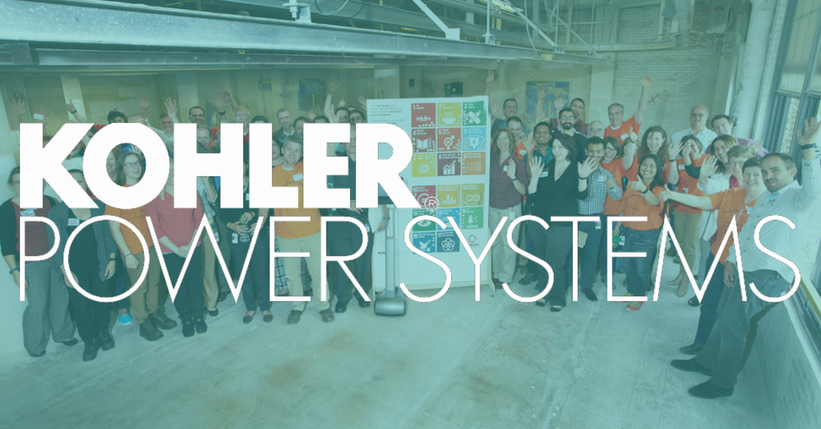 Kohler Power Systems —Kohler's division that manufactures generators and related products—will implement a unique Cool Choices program this fall.
Kohler's Partnership History with Cool Choices
Cool Choices first partnered with Kohler in 2017 for an employee engagement sustainability program at their corporate headquarters in Kohler, Wisconsin. Employees took part in a six-week sustainability engagement program where participants earned points for their sustainable practices at work and at home. After the success of Kohler's first Cool Choices program, we partnered with the Wisconsin company for a second sustainability engagement program at two facilities in South Carolina and Arkansas. We are thrilled to partner with Kohler for a third time, this time engaging Kohler Power Systems' extensive distributor network in the program.
Kohler Power Systems Makes Cool Choices
"We decided to play again, this time inviting our distributor network to participate with us," says Nicole Dierksheide, a Senior Product Manager at Kohler Co. "Our distributors are part of the Kohler family, so this is a great way for us to engage with them around sustainability, facilitating teamwork and collaboration across our network."
Kohler Power Systems first participated in the campus-wide Cool Choices program at Kohler's Wisconsin headquarters in 2017.
"We really enjoyed the program. It was a great way to connect with Kohler staff across other divisions," says Dierksheide.
"Associates at KPS definitely got into the game—some of the top performing individuals and teams at Kohler were from that group. I wasn't surprised when they said they wanted to play again," says Brigitte Dillman-Cruce, Curriculum Manager for Sustainability. "I'm pleased that they decided to engage their distributors in this second program, as it's a great way to reinforce our corporate values with these key partners."
Kohler Power Systems works with a network of about 30 distributors across North America. Cool Choices will set up the game so the game impacts can be disaggregated by location, enabling each distributor to see the impact of actions by their teams.
"Cool Choices does a great job of demonstrating how simple actions add up across a community," says Dierksheide. "I'm excited for our distributors' associates to see the kind of difference we can make when we all adopt sustainable practices."
Cool Choices will launch the program for KPS staff and their distributors in September.
Contact info@coolchoices.com to learn more about how Cool Choices can help your business mobilize employees around sustainable practices.
Comments are closed.