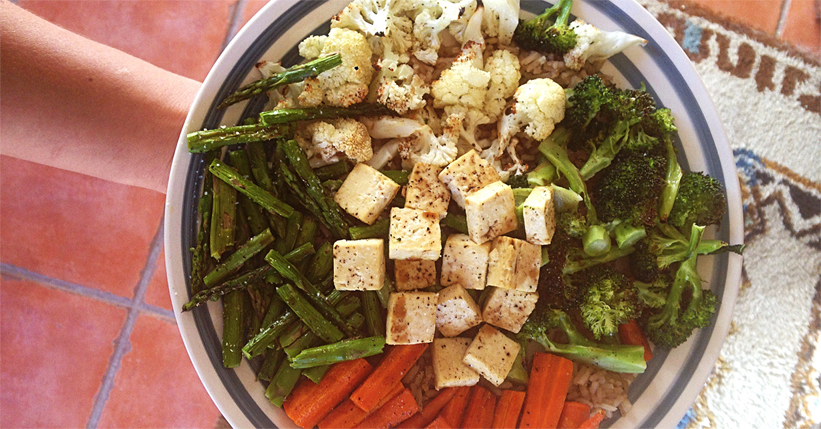 Going meatless – on Monday or any day of the week, and as often as you'd like – is not only good for your health, but for the health of the planet as well. In fact, going meatless on Monday is something Cool Choices program participants can earn points for in our sustainability engagement programs. Some participants earn points just by eating less meat—opting for plant-based meals some of the time. While others adopt a vegetarian lifestyle. Recently a 2018 alumna, Judy, reported that she's switching to a plant-based diet so she can create a greener footprint for herself. Here's more information on the benefits of going meat free.
Why Going Meatless is More Sustainable
Going meatless once a week (or more!) is more sustainable and earth friendly because it helps to save valuable resources, like water. According to the USGS, it takes about 1,840 gallons of water to produce one pound of beef. Whereas the average water footprint of cucumbers and pumpkins is only about 92 gallons.
Producing meat and other animal products also creates more greenhouse gas emissions than growing fruits, veggies, and grains. In its 2006 report, the United Nations said raising animals for food generates more greenhouse gases than all the cars and trucks in the world combined.
How to Make Going Meatless Easy
Going meatless doesn't have to be hard – we're from Wisconsin, so believe us, we know! Growing up in a meat-centric society can make reducing meat consumption a little overwhelming at first. And you don't have to eat salads everyday either, although it's important to add raw fruits and vegetables into your daily diet. For many, the hardest part about getting started with meatless meals is making a main course and figuring out how to fill the spot where the chicken or steak would have been. What better way to get a new recipe than from a friend or coworker! In our programs, Cool Choices participants benefit from sharing photos and recipes, often highlighting meatless options. For example, a Cool Choices participant from our Waukesha County program shared this recipe for Channa Masala – North Indian-style Chick Pea Curry with her peers.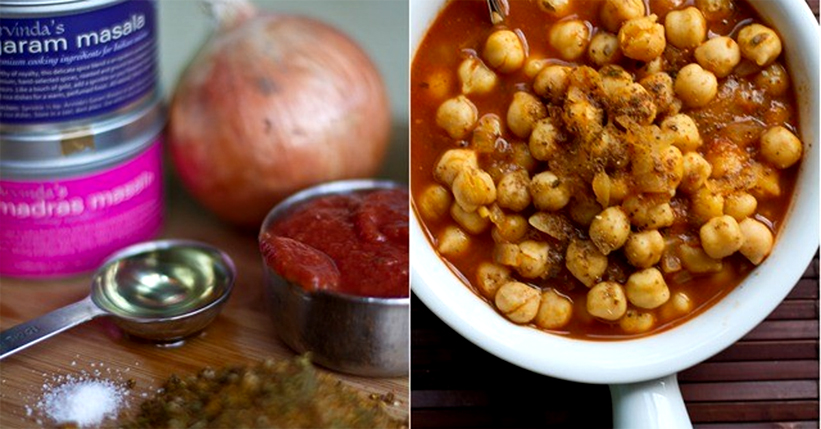 For everyone else, there is a beautiful thing out there called Pinterest! Seriously, there is no reason to say cooking vegetarian is difficult when we have access to so many amazing recipes at our fingertips on Pinterest, complete with beautiful photos of your soon-to-be meal to boot.
Try a new take on an old classic with simple recipes like these portobello fajitas, you won't even miss the meat! Go as home style or as contemporary as your cooking skills allow. Start with one day a week to get the hang of it, and incorporate more meatless meals into your culinary schedule as you get more comfortable.
The Benefits of Going Meatless
There are many benefits to reducing your meat consumption. We've already discussed the benefit to the planet by reduced greenhouse gas emissions and water conservation – but that's just a start to the many benefits of going meatless.
Going Meatless is Good for Your Health
The health benefits of going meatless are clear. People who eat fewer animal products have lower rates of obesity, dementia, arthritis, high blood pressure, and other serious medical conditions. Nutrition experts worldwide are on board. In fact, the American Heart Association, Johns Hopkins School of Public Health. and Kaiser Permanente are among the leading public health organizations that support reducing meat consumption to improve health and prevent disease.
Going Meatless Can be Cost Effective
A 2015 Time.com article titled, "Here's How Much Money Vegetarians Save Each Year," estimates that going meatless can save eaters about $750 each year on their grocery bills. This analysis even includes splurges on high-quality food items like olive oil vs. less expensive vegetable oils.
Comments are closed.