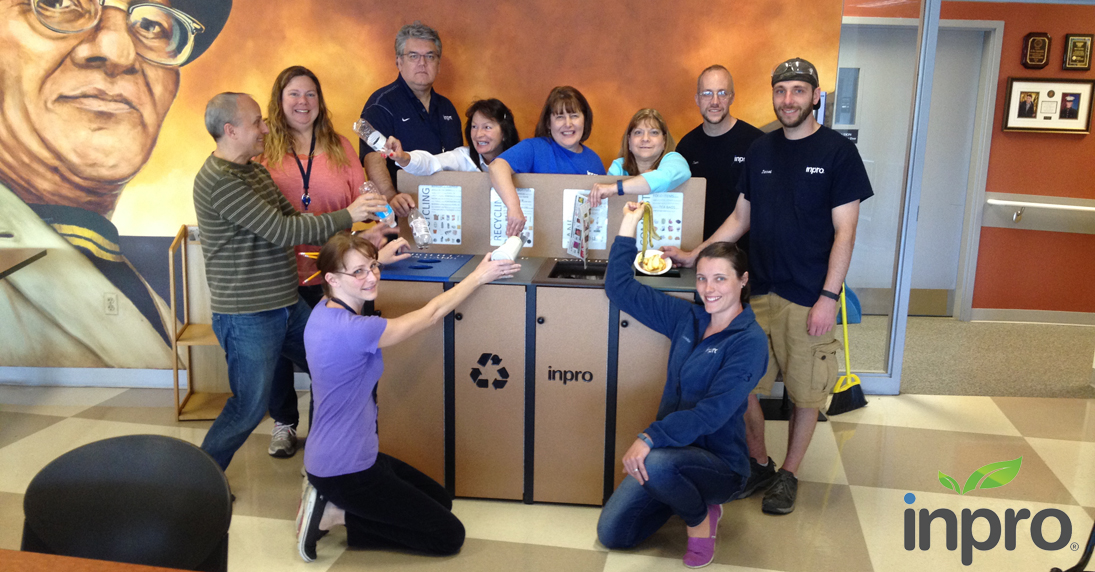 Cool Choices met with Amanda Goetsch, Corporate Sustainability Manager at Inpro Corporation, during a recent webinar to discuss the successful results Inpro received from implementing Cool Choices employee engagement programs as part of their sustainability initiatives. Inpro offers a beautiful selection of interior and exterior architectural products, and is a company obsessed with sustainability. Inpro implemented our program once in 2014, and again in 2016. We were honored to have Goetsch join us to discuss her experiences. Below are some of the key points discussed to during the webinar.
Millennials' Impact on Business and Sustainability
At Cool Choices, we have often discussed the changing business culture – especially around sustainability and corporate social responsibility (CSR) – as millennials become the largest generation in the workforce today.  Geotsch and Inpro also understand and embrace the reality that millennials are changing the face of the CSR game. In fact, 76 percent of millennials consider a company's social and environmental commitments when deciding where to work. While 83 percent of millennials say they would be more loyal to a company that helps them contribute to social and environmental issues. This data is so significant that many companies today are rethinking their approach to attracting, engaging and retaining their employees to better serve the employment needs of the largest generation in the workforce.
Fostering a Workplace Culture Around Sustainability
Inpro's supportive, fun, and hardworking company culture was the perfect environment to implement a program that engages employees around sustainability both at home and in the workplace. Cool Choices was able to take advantage of Inpro's existing workplace culture to help add "enthusiasm" behind green efforts via our online game-based platform. Inpro's motto and often used Twitter hashtag is "Tiny Actions, Big Impact." This idea fits perfectly with the small, daily sustainable actions the Cool Choices program promotes. Everyone can impact of the world, even if it's just one tiny action on a daily basis.
Employee Engagement and Sustainability
Why focus on employee engagement around sustainability? Employee loyalty comes from positive influences at work and consistent engagement. Cool Choices programs open a line of communication about being sustainable in the workplace between rank and file employees and management. The programs give people the opportunity to lead sustainability efforts they are passionate about. When employees know their voices are not only heard, but valued, they become more engaged, which contributes to a positive work environment that benefits the triple bottom line – the social, environmental, and financial benefits for both the employees and the company.
When Inpro implemented its first Cool Choices employee engagement program back in 2014, it also helped get more skeptical employees on board with sustainability. "It was an opportunity to break the ice and get people comfortable with sustainability terms, and thinking about what sustainability means to Inpro and on a personal level," said Goetsch. "It's a slow evolution, but changing perceptions on sustainability now will directly influence the future of the company."
Inpro Employees Stayed Engaged During the Program
During the webinar, Goetsch reviewed employee participation rates for both of the Cool Choices programs at Inpro. The engagement was wide-reaching, with 97% of employees participated daily in 2016! Everyone from high-level management to rank and file employees got involved. Goetsch believes the range of employees involved contributed to their high engagement levels and their successful post-game outcomes. Everyone had fun competing against their coworkers. In fact, they had so much fun that employees are still talking about the program, which means they are still talking about sustainability – our ultimate goal.
According to Goetsch, if the 8-week program implemented in 2014 were to run 12 months, participants would have collectively abated 300,000 lbs. of CO2 emissions and saved $200,000. Now, those are results worth talking about!
Post-Game Employee Engagement Data
One of the most valuable aspects the Cool Choices program is the post-game data, says Goetsch. It provides insight on how behaviors and attitudes changed from the start to the end of the program.
At Inpro, people reported having a better understanding of sustainability. They got comfortable with the term "sustainability" and what it means on both a personal and organizational level. During the game about 50% of employees talked about sustainability weekly. It became a part of everyday life.
Participants experienced positive results from the program, not just in money saved, but in improved lifestyles outside of work including eating healthier meals and biking and walking more often.
At an organizational level, Inpro received over 800 suggestions from employees on how to make daily workplace practices more sustainable. This gave management at Inpro the opportunity to make employees the ambassadors of their own ideas, which leads to even more employee engagement and continuous improvements.
Most importantly, employees gained a new perspective on sustainability – it doesn't need to be daunting or superficial. In fact, in can be fun, social, and easy.
For more on how Cool Choices helped sustainability become embedded into Inpro's workplace culture, watch our on-demand webinar on this topic, co-hosted by Cool Choices Executive Director Kathy Kuntz and Amanda Goetsch, Corporate Sustainability Manager at Inpro Corporation.
Amanda Goetsch has a Master of Science in Conservation Biology and Sustainable Development, with a minor in Business, Environment, and Social Responsibility, from the University of Wisconsin, Madison, and has been with Inpro since 2013. She is responsible for not only employee engagement around sustainability efforts, but also global sustainability reporting, sustainable product innovation, product transparency, and supply chain innovations. Goetsch also offers an an impressive list of credentials and community involvement: Former Chair of the U.S. Green Building Council Wisconsin Community, a member of the Wisconsin Sustainable Business Council's advisory board, and a long-time member of the Jefferson County Sustainability Task Force.
Comments are closed.