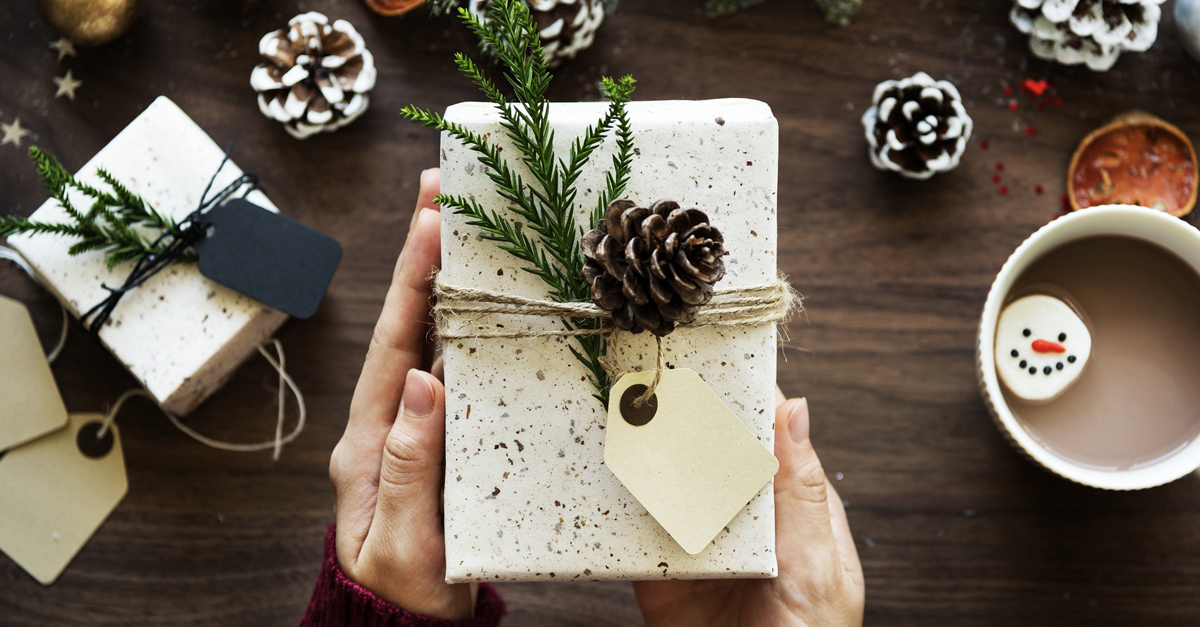 The holiday season is the perfect time to remind the people you love that you care. Often, exchanging gifts shows your appreciation for someone's place in your life. This holiday season, you can say even more with your gifts – you can use holiday gift giving as an opportunity to show your gratitude for the planet too. Shopping for sustainable gifts this holiday season can help ensure the products you buy are ethically and environmentally produced.
Here are some sustainable gift ideas and tips to keep in mind as you begin shopping this holiday season. 
Check for sustainably sourced products
Products made of renewable materials are easier on the earth. Recycled plastics and rubbers, cork, and bamboo are materials that can be regrown or replenished relatively quickly compared to materials like plastic and metals. When it comes to fabrics and materials, organic cotton, linen, bamboo, or hemp are great options. Compared to conventional fabrics, these sustainable textiles take less water to produce and the plants are not treated with pesticides, so conditions are better for workers. It's important to keep in mind that a holistic approach to sustainability includes fair wages and safe working conditions for laborers. Often, and as is the case in the textile industry, environmental damage goes hand-in-hand with poor working conditions.
Shop local
In addition to helping boost the local economy, when you shop at small businesses within your community, you'll often lower the carbon footprint of your gift. Locally sourced and produced products will travel fewer miles to get to the store, reducing carbon emissions though gas savings. Giving a gift to a foodie? Get them a gift card to a locally-owned restaurant that sources their ingredients from nearby farmers. This will stimulate the local economy and support farmers near your community. And as an added bonus, local gifts are unique so you know whoever is receiving your gift will be getting something extra special.
Buy secondhand
Vintage or thrifted gifts are truly one-of-a-kind and a great sustainable gift idea for the holidays! Not only are thrifted gifts more affordable, but you're helping extend the life of an item. Just because someone else has outgrown an object, it doesn't mean it's no longer good. When you shop secondhand you help minimize the demand for new products and you help keep quality items out of landfills. Plus there's nothing more satisfying than finding the perfect gift tucked away in a crowded thrift store.
Make a DIY holiday gift
There's nothing more special than a homemade gift. The one who receives it will know you spent time lovingly putting it together. Upcycling is a great way to put unused items to use, and it prevents additional landfill waste. If you don't have anything to upcycle on hand, try hitting up a second hand shop. Give old frames a new paint job and add a special photo. Find a funky ceramic pot and add a plant—some garden stores will even repot plants for you at no charge! Need some fabric for a DIY project? There's no better place to find a unique print than a thrift store or flea market. And making a homemade gift is a great way to stay busy and have some fun indoors during the chilly holiday season.
Quality over quantity
While you're shopping, keep in mind that a holiday gift that will last is often more meaningful than one that is only enjoyed for a short while. Sustainable gift sourcing is important—it shows that you, the consumer, care about where a product comes from and how it gets into your hands. But it is just as important to keep in mind that sustainability can start with each and every one of us. We can decide if a product is sustainable by keeping something and using it for as long as we can. This is made easier when items remain useful and meaningful enough to us that we want to keep them forever. So, as you choose a gift, consider if the person receiving it will still want to (and be able to) use it in one year, five years, or even 30 years.
Give a gift that can help someone kick an unsustainable habit
If your loved ones are new to sustainability, try gifting them some items that will make the start of their journey a little easier. Reusable alternatives to disposable products like to-go cups, shopping bags, or straws make for a great sustainable gift. Reusable products cut down on landfill waste and lower the demand for their disposable alternatives as well as save raw materials. Not to mention, reusable products come in tons of different colors and patterns, so you'll have fun choosing a style that's right for the person receiving your gift.
Make a donation in lieu of a gift
For the person who has it all, consider making a charitable donation in their name. You can personalize this gift by choosing a cause close to their heart. Organizations like Network for Good make searching for charities by keyword simple. Want to help children learn the importance of reducing waste, while increasing environmental literacy and improving health and wellness? Cool Choices provides free sustainability programs to K-12 schools. In fact, we've worked with more than 30 schools so far! Learn more about our K-12 sustainability programs or donate today!
Educate yourself
The best way to feel good about where your gift is coming from this holiday season is to educate yourself about the product. The more you know the better decision you can make about your purchase of a truly sustainable gift!
Comments are closed.