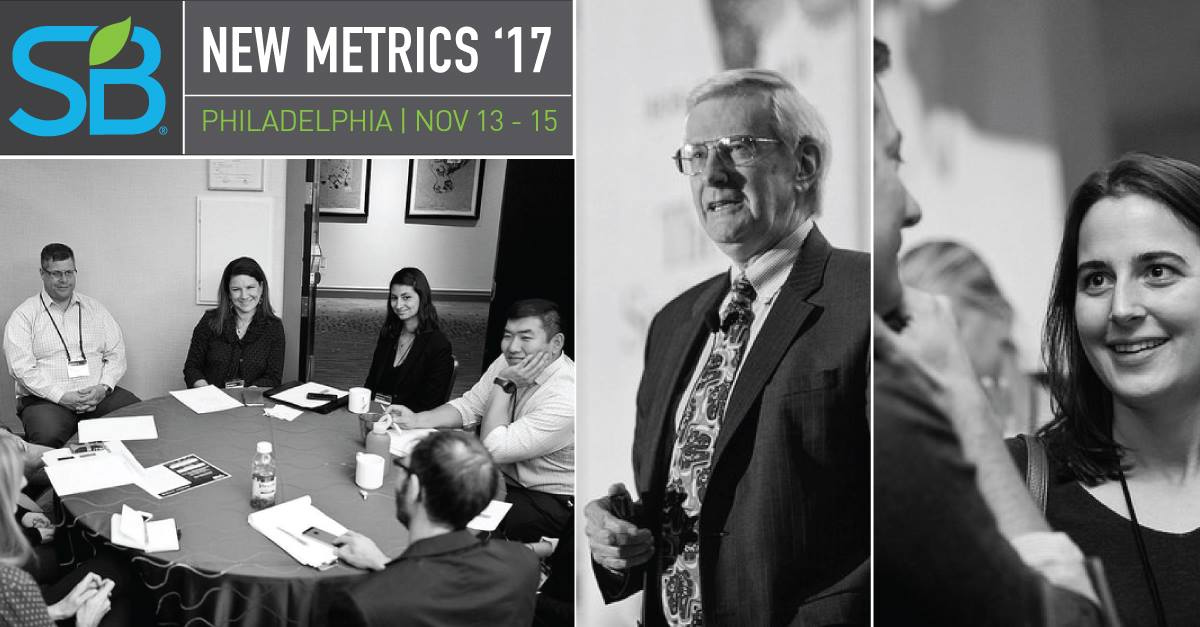 Cool Choices was proud to be a sponsor of the Sustainable Brands New Metrics 2017 conference this year in Philadelphia, PA. New Metrics is a gathering of forward-thinking organizations that are motivated to implement new ways to create, measure, and communicate business value.
Instead of wondering how to "be profitable and see what we can do about sustainability," leading companies are now working to measure – and reduce – the total social cost of doing business. And it's an exciting conversation!
New Metrics Conference Highlights
Very impressive were the presentations highlighting the breadth of high-impact work taking place across the globe.  Speakers like BASF's Christian Heller discussing a new value-to-society calculator that estimates a brand's contribution to society along the entire value chain. A panel comprised of Krista Badiane (Buzzword), Bea Boccalandro (VeraWorks), and Sara Espinoza (NEEF) discussed the struggle of companies to create meaningful, sustainability-focused employee engagement programs – and measures of their value – that resonate with decision-makers.  Or John Schulz of AT&T who presented how his company has a "10x" goal – to enable carbon savings for its customers that equals ten times AT&T's carbon footprint by 2025. EcoSphere presented innovations in carbon finance, such as regenerative cacao production in the Peruvian rainforest enabling the protection of 1.5 million hectares of rainforest.
Just as impressive were the displays of dedication from these researchers and data analysts who are pouring their hearts and minds into crafting solutions that will result in the "tipping point" of business as profitable and socially conscious entities.
Employee Engagement at New Metrics
Given that there are some 124 million private sector employees in the U.S. alone, it should not be surprising that one of the most attended educational tracks throughout the conference was on employee engagement. Employee engagement can be defined as "commitment and passion for one's work and role within a company."
Engaged employees care about their work and apply discretionary effort toward meeting company goals. Yet, according to Sara Espinoza of NEEF, Gallup has found that in the U.S., only 32% of employees are considered "engaged." Globally, that number is 13%.
Employees that are engaged are more productive, leading to greater profitability; whereas disengaged employees are at risk for leaving. According to CAP, the cost to attract, select, and retrain a new person is so high:
16 percent of annual salary for high-turnover, low-paying jobs (earning under $30,000 a year). For example, the cost to replace a $10/hour retail employee would be $3,328.
20 percent of annual salary for midrange positions (earning $30,000 to $50,000 a year). For example, the cost to replace a $40k manager would be $8,000.
Up to 213 percent of annual salary for highly educated executive positions. For example, the cost to replace a $100k CEO is $213,000
One of the clearest messages at New Metrics was that employee engagement programs are a sound investment in a company's bottom line.
At Cool Choices we've been helping companies use sustainability to increase employee engagement since 2011. Contact us to learn how we can help your organization engage and inspire employees around your efforts.
Comments are closed.