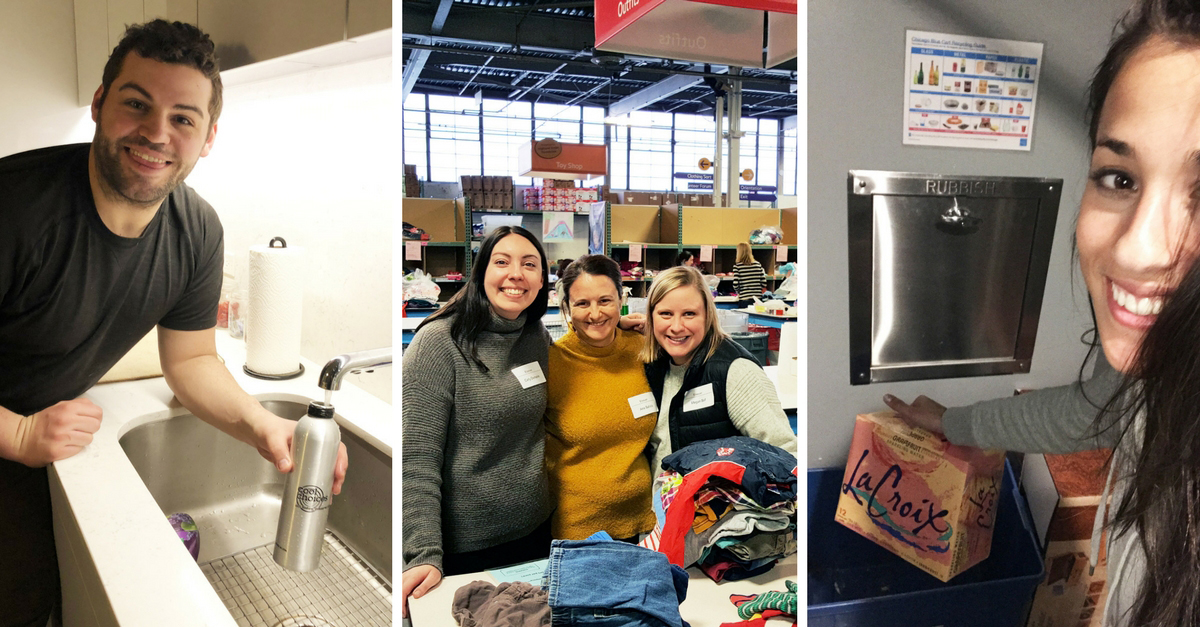 Cool Choices recently completed a tenant sustainability engagement program at six Gerding Edlen multi-family buildings in Boston and Chicago.
Gerding Edlen is a national leader in real estate investment, development, and asset and property management. Founded in 1996 and headquartered in Portland, Oregon, Gerding Edlen has built or renovated over 75 LEED certified properties.
Living in a Sustainable Community
Guided by a set of principles known as Principles of Place, Gerding Edlen creates vibrant, sustainable communities where people can live, work, play, and learn. "For us, building place and building community is equally important," says Renee Loveland, Director of Sustainability at Gerding Edlen.
In 2016, we partnered with Gerding Edlen to launch a pilot program at one of their Chicago properties. Due to its success, we continued our partnership with Gerding Edlen and launched a 2018 program that expanded its reach to multiple buildings, in multiple cities. To meet these needs, we created a customized program and empowered community leaders at each of the properties to lead a sustainability engagement program.
Gerding Edlen Sustainability Engagement Program Outcomes
A total of 88 residents from six apartment buildings participated in the Gerding Edlen programs. Program participants reported taking almost 4,500 actions, which equates to $13,654 in total annual savings.
Residents also shared more than 100 ideas for making their buildings even more sustainable. One small, yet very impactful idea, came from a participant who noticed junk mail being thrown in the regular mailroom trash bin. They suggested the building provide a mailroom recycling bin to reduce unnecessary paper waste from heading to the landfill instead of the recycling plant. This great idea has already been implemented by the proactive facilities team at the building.
"Cool Choices provided a unique way for us to engage with our residents and reinforce the opportunities available to them to live a more sustainable lifestyle," said Loveland.
Engaging Tenants in Residential Sustainability Efforts 
Whereas to-date the Cool Choices program has been used by employers within the workplace to engage with their employees, this multifamily program affirmed that it's feasible to engage multifamily residents in sustainability efforts. An initial analysis of the savings data also suggests that there are unique savings opportunities associated with tenant engagement.
A high portion of players reported taking some actions, like calibrating their television's brightness (which reduces energy waste and improves your viewing experience), for the first time.* In some cases the percentage of first-time actions was more than double what we have seen previously in comparable programs implemented throughout workplaces. This suggests there are sustainable practices that are of particular importance to renters, which should continue to be promoted.
Also, since these Gerding Edlen residents do live in a green building and have been exposed to sustainable practices within their respective communities, it is fair to conclude that the adoption rate of these simple energy-saving practices is likely even lower across the rental market more generally. Overall, the findings from this program suggest the potential for meaningful energy savings from tenant sustainability engagement efforts.
*The Cool Choices program is unique in that it captures—in real time—whether a participant's reported actions are newly adopted or ongoing habits. This enables us to accurately estimate program impacts, while also affirming all—new and old—practices that our participants report. This feature enables us to analyze trends in the adoption of practices across populations.
Comments are closed.