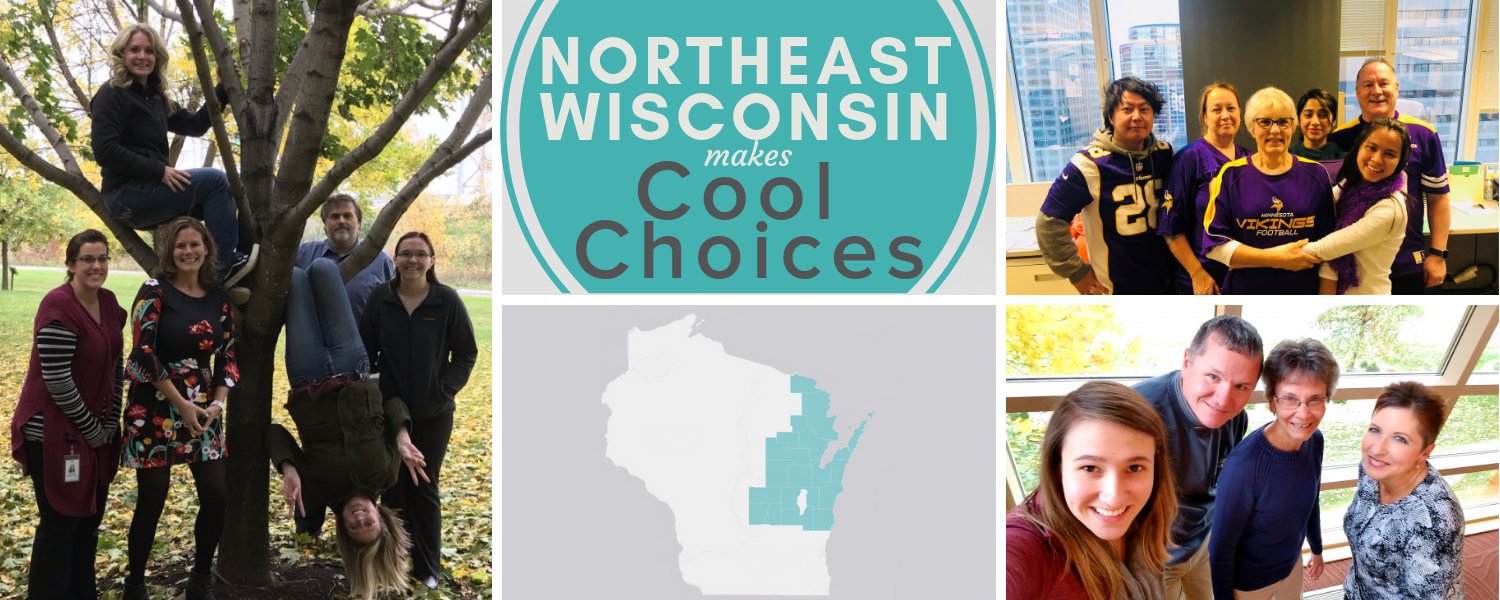 Businesses & Residents Across Northeast Wisconsin Embrace Sustainability
In fall 2018, Cool Choices launched a free regional engagement program in Northeast Wisconsin, funded by the McKnight Foundation and in partnership with New North, Inc.
Over 1,350 employees and regional residents signed up to participate. These participants joined teams and then reported their sustainable practices at work and home, competing against other teams across the region.
In total, the participants formed more than 250 teams and reported over 77,300 actions that represent more than $506,000 in annual savings.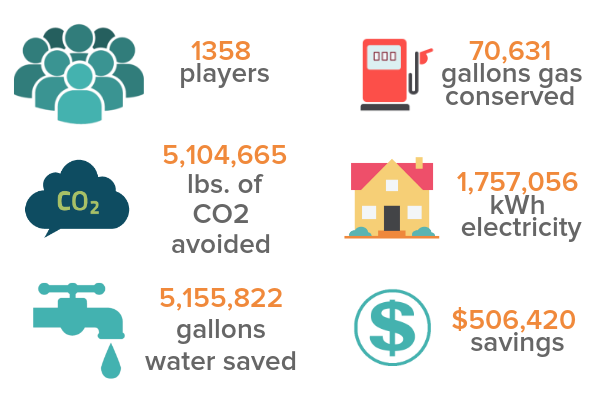 Playing Cool Choices
Participants use an online platform to report the "cool choices" they are making on a daily basis. In addition to reporting their practices, participants can also share photos and suggestions for points.

Participant photos highlight some of what's so special about Northeast Wisconsin. It's a region where people enjoy beautiful parks, great biking and hiking, and of course, the Green Bay Packers. We love the many pictures that celebrate the region's natural resources.
It's also a region where people value resources and are proud of local efforts to reduce waste.
During the game participants can claim points for their actions on a daily basis. Lots of northeastern Wisconsin participants reported doing these actions:
Turning off engine instead of idling (74%)
Switching furnace fan from continuous to auto (81%)
Drinking tap water instead of bottled water (85%)
Adjusting the power management on work computer (66%)
The Cool Choices system also tracks whether the action being reported is a new action or something the participant already did regularly. That enables us to estimate the incremental impact of the program more accurately. Overall participants reported that about 30% of their actions were new. Some noteworthy new actions included:
Carpooling to work (51% of responses new)
Opt for a meatless meal (45% new)
Use public transit (60% new)
Turn off engine instead of idling (34% new)
Related K-12 Efforts
Cool Choices has a long-term partnership with Wisconsin's Green & Healthy Schools (GHS) program, the statewide initiative to help K-12 schools reduce resource use, increase environmental literacy, and improve health and wellness. In conjunction with our northeastern Wisconsin program, GHS is implementing a Cool Choices program at 12 schools in Marinette and Menominee (Michigan) counties.
About the Program
Cool Choices is a non-profit organization that provides customizable corporate sustainability programs that engage employees and accelerate corporate efforts to cut energy costs, reduce waste, and save money. This community-scale program was an opportunity to celebrate the advantages of sustainable practices across the region.
The program was open to businesses, groups and individuals across the New North region, which includes 18 counties in northeastern Wisconsin: Outagamie, Winnebago, Calumet, Waupaca, Brown, Shawano, Oconto, Marinette, Door, Kewaunee, Sheboygan, Manitowoc, Fond du Lac, Green Lake, Marquette, Florence, Menominee and Waushara.
The regional program in Northeast Wisconsin launched on October 1 and ran through November 9. Leading businesses across the region participated in the program. Each participating business received organization-specific data at the end of the program. Learn more about how the Cool Choices game-based platform in this brief video:
Cool Choices has worked with businesses and communities in NE Wisconsin since 2011. We were thrilled to continue to help businesses and individuals make sustainable choices in this region through the regional program in fall 2018.

Cool Choices Partners:

These partners are helping to recruit businesses to participate in the free program.
Participating Businesses and Organizations:
Fox Valley Unitarian Universalist Fellowship
Primary Funding Provided By: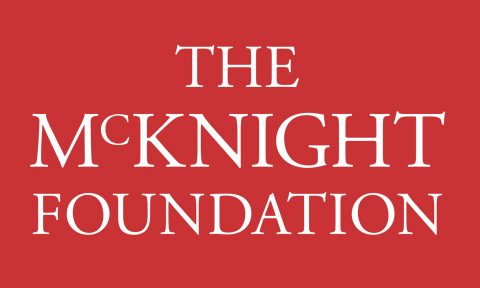 Sponsors:
Gold Sponsors:


Green Sponsors:

Prize Contributors: