Sign up for a sustainability webinar
We offer upcoming sustainability webinars with topics that specialize in addressing how your business or organization can accelerate corporate sustainability initiatives through employee engagement strategies.
You can also view past sustainability webinars on demand.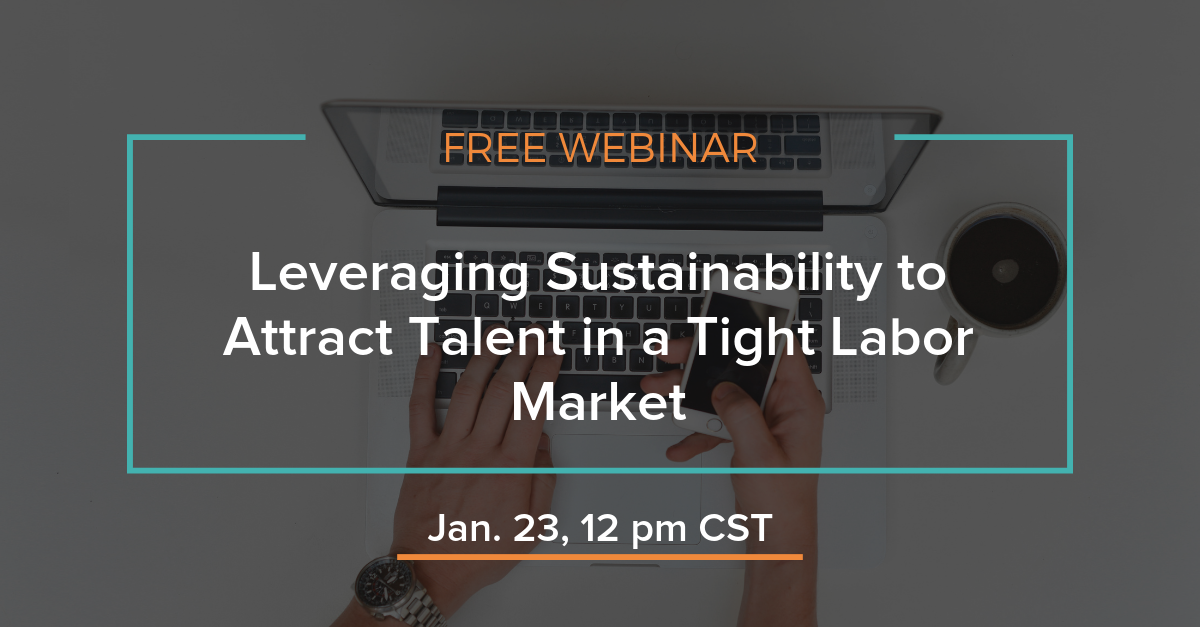 WEDNESDAY, JANUARY 23
The current labor market is strong. While this is great for employees and the economy, employers must offer value beyond traditional compensation. Join us to learn how every industry can leverage sustainability to recruit and retain talent.
WEDNESDAY, FEBRUARY 13
Creating a place where sustainable practices are the new normal is vital to achieving aggressive sustainability goals. In this webinar, we'll discuss how you can measure change and know when your "on-the-ground" culture has truly shifted.
WEDNESDAY, MARCH 20
Even as your organization has substantially reduced carbon emissions, employees notice that the break room trashcan is overflowing with disposable cups. In this webinar, we will talk about how the "small stuff" can lead to greater engagement in and awareness of your big-impact projects.
WEDNESDAY, APRIL 10
When companies or communities make sustainability commitments public there's increased accountability, which leads to more action and bigger results. In this webinar, we will discuss how public commitments and benchmarking initiatives increase benefits at the corporate as well as community level.
WEDNESDAY, MAY 15
Is your city, county, region trying to achieve an ambitious climate goal but overwhelmed by the process or struggling with infinite paths to achieving those goals? In this webinar, we will discuss the challenges that other communities have faced, as well as the need for both a strong vision and comprehensive plan.
WEDNESDAY, JUNE 15
We complete most of our daily interactions– taking out the trash, cooking a healthy dinner, or spending time with our friends– without any expectation of monetary rewards. Yet, energy efficiency and sustainability projects often try to influence behavior through monetary incentives. In this webinar, we'll talk about the pros and cons of monetary incentives as a tool for motivation.
WEDNESDAY, JULY 17
Forward-thinking organizations are successfully reducing emissions associated with their operations. As entities achieve reductions across their operations and supply chain, the next challenge is the communities in which the businesses operate (and in which their employees live and play). In this webinar, we will discuss ways your internal efforts can facilitate employee participation in broader community-scale initiatives.
WEDNESDAY, AUGUST 14
We all want to fit in– so how can we make sustainable behaviors the "normal" thing to do? In this webinar, we will discuss the power of changing organization norms through strategic sustainability communications and programs.